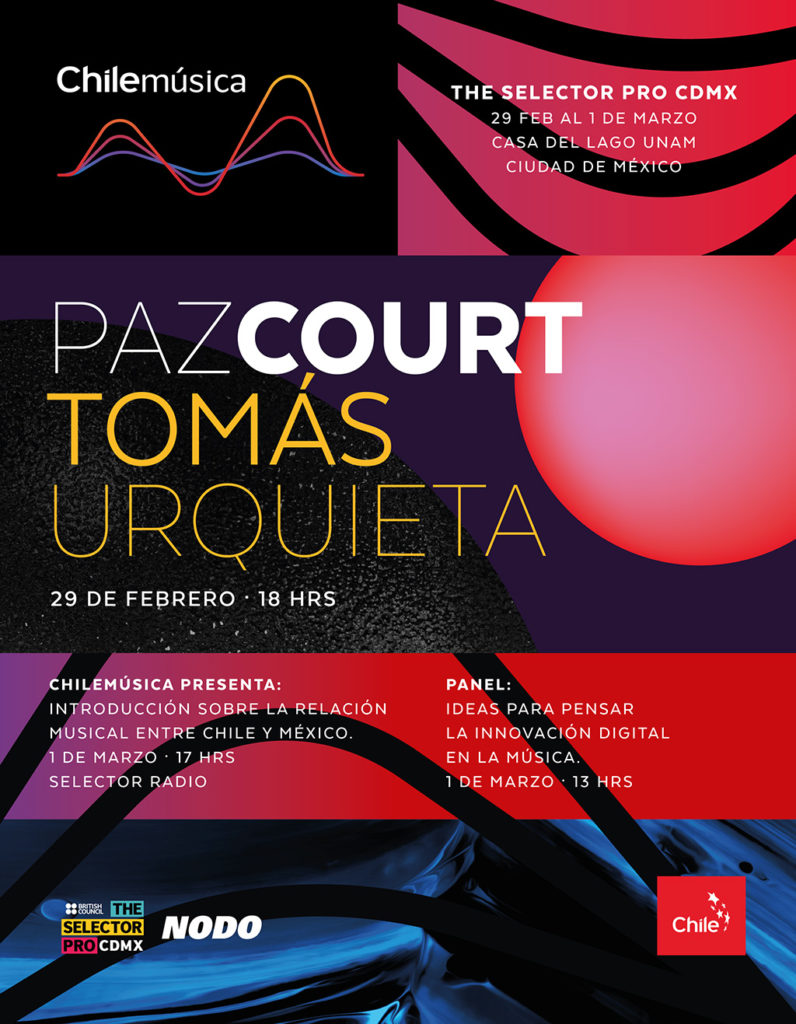 Chilemúsica llega a México como marca sectorial enfocada en el intercambio musical
Chilemúsica llega a México como marca sectorial enfocada en el intercambio musical
La primera misión de Chilemúsica se centrará en The Selector Pro CDMX, a realizarse entre el 29 de febrero y el 1 de marzo. Incluye actividades de sociabilización, networking y la presentación en vivo de Paz Court y Tomás Urquieta.

Paralelamente, estará presente en la primera versión de Recreo Festival en la capital azteca.
Una de las metas de la recién estrenada marca sectorial "Chilemúsica", será posicionar a la industria musical chilena en tres importantes mercados internacionales: España, México y Perú. Siendo la primera misión, México.
Históricamente, entre Chile y México, existe una vinculación cultural que ha alimentado el patrimonio de la música de ambos países. Por un lado, las rancheras y la influencia del cine mexicano en los años '40 en el Chile del siglo XX; y en el otro extremo, la internacionalización del bolero en la voz del chileno Lucho Gatica desde México para el mundo.
Estas dos maneras de hacer música desde lados opuestos del continente latinoamericano, han bebido mutuamente de la influencia de sus estandartes culturales viajando de Norte a Sur y de Sur a Norte durante décadas. Partieron desde Chile, rumbo a México, bandas como Los Tres, La Ley y Los Bunkers. Aterrizaron en Chile desde México, Jorge Negrete y Juan Gabriel para quedarse siempre en la cultura popular de los chilenos. Hoy, Mon Laferte, cuyos primeros pasos fueron en su tierra natal (Chile) hace historia en su segunda casa, México, y se convierte en un fenómeno de la música, rompiendo rankings y cifras de streaming en la industria internacional.
Para Oliver Knust, director de Chilemúsica e IMICHILE, la llegada de la marca sectorial al país azteca, responde a una relación de décadas que se ha ido afianzando "México es un enorme mercado, que ha sido para la música chilena una gran catapulta para varios de nuestros mejores representantes artísticos. Hay un peso histórico, Chile ha conocido sus sensibilidades a través de la música y el cine. Así mismo, México se ha enterado del sentir chileno escuchando y leyendo a gente como Los Bunkers y Roberto Bolaño. Actualmente los músicos independientes, que han hecho un trabajo a pulso durante los últimos 20 años, han generado presencia en los principales festivales y ferias de todo México. La invitación es a que juntos sigamos trabajando en este intercambio enriquecedor".
Entre el 29 de febrero y el 1 de marzo de 2020, en el marco de  THE SELECTOR PRO en Ciudad de México, será presentada la marca sectorial Chilemúsica, con actividades de lanzamiento, socialización y networking.
La delegación de industria chilena que participará en el encuentro, está compuesta por Consuelo Cortez (Lápiz Papel), Pablo Porter (Jungla Music) y Rodrigo Santis (Quemasucabeza), junto a Oliver Knust y Francisca Sandoval  de Chilemúsica.
Entre el nutrido cartel de actividades, se destacan los showcases de artistas, escenario en el cual se presentarán Paz Court y Tomás Urquieta el sábado 29 de febrero a las 18:00hrs.
El domingo 1 de marzo a las 17:00hrs. -en el escenario "Selector Radio"– Chilemúsica presenta: Introducción sobre la relación musical entre Chile y México, una conversación entre su director, Oliver Knust, y el músico chileno Carlos Reinoso (AyeAye – Mostro), donde reflexionarán en torno al intercambio cultural entre ambos países. La actividad será transmitida por la página de www.selectorpro.mx al estilo de un programa de radio.
Ese mismo día habrá un panel de conversación sobre "Ideas para pensar la innovación digital en la música" donde participarán Malfi Dorantes (Music PR de México), Francisca Sandoval (Chilemúsica), Nicolás Madoery (Asociación de Sellos Independientes de Argentina) y Leonardo Moreno (Jefe de Contenidos Musicales para Ibero 90.9, México).
En esta primera misión a México, la marca sectorial de la música chilena también generará un espacio de networking y apoyará en difusión a Recreo Festival, evento de música electrónica independiente que se gestó en Chile el año 2018 y llega por primera vez a Ciudad de México para celebrar su décimo primera edición. Esta fiesta electrónica latinoamericana con una propuesta artística, que reivindica la fiesta como movimiento social y agente de cambio se realizará el 29 de febrero, con más de 25 artistas, algunos representativos del underground chileno, además de músicos y djs de la escena Mexicana y Argentina. Completarán 14 horas de música, en 3 escenarios, en la Ex Fabrica de Harina donde desplegarán una variada gama de sonoridades electrónicas, visuales, y performance.
Chilemúsica, fue creada gracias al trabajo de la Asociación Gremial Industria Musical Independiente de Chile (IMICHILE); ProChile, la Subsecretaría de las Culturas y las Artes, la Corporación de Fomento de la Producción (Chilecreativo) y la Sociedad Chilena de Autores e Intérpretes Musicales (SCD) para enfocar el trabajo que se hace con la exportación de la música nacional.
PROGRAMA
CHILEMÚSICA EN THE SELECTOR PRO CDMX
INFORMACIÓN GENERAL
Fecha: 29 febrero y 1 marzo
Acceso: Entrada libre hasta completar aforo.
Ubicación: Casa del Lago UNAM, Bosque de Chapultepec. 1ª Sección (junto al Zoológico)
PROFESIONALES CHILENAS Y CHILENOS PARTICIPANDO
Oliver Knust, Chilemúsica
Francisca Sandoval, Chilemúsica
Consuelo Cortéz, Lápiz Papel
Pablo Porter, Jungla Music
Rodrigo Santis, Quemasucabeza
SHOWCASE CHILEMÚSICA
Sábado 29 febrero a las 18:00 hrs
Artistas:
Paz Court
Tomás Urquieta
CHILEMÚSICA PRESENTA: INTRODUCCIÓN SOBRE LA RELACIÓN MUSICAL ENTRE CHILE Y MÉXICO
Domingo 01 de marzo a las 17:00hrs
En el escenario "Selector Radio", Oliver Knust y Carlos Reinoso (AyeAye) reflexionarán sobre la relación musical entre Chile y México. Se transmitirá por la página de www.selectorpro.mx  tipo programa de radio.
PANEL
Domingo 01 de marzo a las 13:00hrs
"Ideas para pensar la innovación digital en la música"
Panelistas:
Malfi Dorantes (Mx)
Francisca Sandoval (Cl)
Nicolás Madoery (Ar)
Leonardo Moreno (Mx)